when writing about pain, emotional pain specifically, it can be especially challenging to articulate the experience without sounding trite, vague, or both.
as i sit with the experience of depression in my body today, the analogy of feeling weighed down by a heavy coat comes to mind.
as someone who's lived with chronic "mild" depression, or melancholy as an old therapist referred to it, the feeling is both familiar and oppressive.
today, it began with sleeping a lot and not feeling rested. it was the sense, upon waking, that i could fall back asleep for another 10 to 12 hours.
it is the inexplicable fatigue that makes just moving my body from one place to another a challenge.
…
i was listening to Tarot for the End of Times with Sarah Cargill today as she discussed the Temperance card: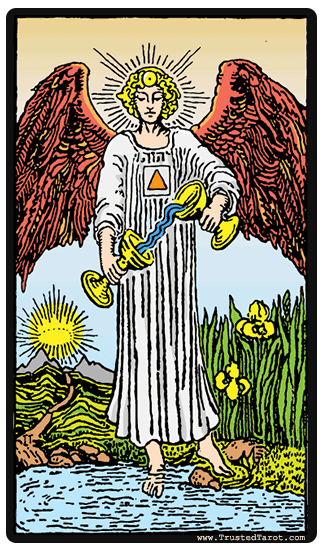 this is a card i hadn't previously had much of a relationship with, so my assessment of it was quite shallow. the traditional concept of temperance, of refraining from indulgence, is not one that resonates with me as someone in recovery from toxic Christian views that encourage denial of the body.
but Sarah Cargill's approach was much different from the conventional encouragement of moderation. instead, she approaches the card from a perspective of the healing.
she speaks to pain as a "symptom of dis-integration." and she also speaks to her own healing journey with chronic pain and physical distress, and her resonance with "alternative" healing modalities, such as Traditional Chinese Medicine (TCM).
inspired by her story and analysis, i googled TCM's view of depression and came across this assessment:
"According to TCM, depression is caused by stagnation, or blockages in the Qi (life force energy). It is usually related to stagnant energy in the liver, spleen, heart or kidneys. Liver Qi stagnation can cause strong feelings of frustration, stomach pain and digestive trouble, heartburn or tightness in the chest, and headaches. Heart or Spleen Deficiency patterns cause worrying, trouble sleeping, and poor appetite. Chronic cases of depression with anxiety are often related to Yin deficiency, which causes irritability, restlessness, poor sleep, and back pain. An acupuncturist looks at all of these symptoms and treats the appropriate pattern with acupuncture and herbs." (source)
depression as blocked life force energy rings true to me, because that's what it feels like — like something is standing in the way between me and experiencing my life fully.
i think about the experience of taking a walk earlier with a beloved, and how simply getting out into the world and moving my body seemed to work to move this stagnant energy.
but now that i'm back in a apartment, laying in bed, writing this post, it finds me again, that sense of deep tiredness residing in my muscles, blood, bones.
…
if i'm being completely honest, despite dealing with depression for as long as i can remember, it continues to scare me. i remain afraid of its potential to swallow me whole, for hours, days, weeks, months.
i've been practicing somatic mindfulness/embodiment, which involves getting still and sitting with what's present in my body. and i'm consistently shocked by how often the experience sitting just below the surface is one of fear. often this fear is vague, not taking on any specific form. it seems as though merely existing in this world is fear-inducing.
i cried today, held by a beloved, and when asked what i was sad about, i couldn't help but think, everything. "i cried today, held by a beloved, and when asked what i was sad about, i couldn't help but think: "everything."
the world is a scary place, being alive is hella intimidating, and grappling with the existential crisis of humans potentially going extinct sooner than later is freaking heavy.
i think about my craving for justice and healing, and through that lens, depression seems like a logical and valid response. that's an aspect of depression that i find generally lacking from discussion of it — its validity.
there is always enough tragedy, whether personally or collectively, in this world to justify being debilitated by it. but on the other side of this equation is joy, which is equally valid. there are always reasons with which to be filled with a powerful sense of aliveness.
this reminds me of a story from Viktor E. Frankl's Man's Search for Meaning:
"The story of the young woman whose death I witnessed in a concentration camp. It is a simple story. There is little to tell and it may sound as if I had invented it; but to me it seems like a poem. This young woman knew that she would die in the next few days. But when I talked to her she was cheerful in spite of this knowledge. "I am grateful that fate has hit me so hard," she told me. "In my former life I was spoiled and did not take spiritual accomplishments seriously."
Pointing through the window of the hut, she said, "This tree here is the only friend I have in my loneliness." Through that window she could see just one branch of a chestnut tree, and on the branch were two blossoms. "I often talk to this tree," she said to me. I was startled and didn't quite know how to take her words. Was she delirious? Did she have occasional hallucinations? Anxiously I asked her if the tree replied. "Yes." What did it say to her? She answered, "It said to me, 'I am here-I am here-I am life, eternal life." (source)
what gets lost in the experience of depression is a sense of wholeness. i wish i could go back in time and tell my younger self, "it is not that your depression is wrong, it is that it is incomplete."
a sense of despair and hopelessness is as much as a part of this experience of being alive as hope and optimism. but when experienced in excess, it creates a confirmation bias loop, seeking out all that validates its beliefs and ignoring the rest.
my depression, for much of my life, has made feeling joy seemingly impossible at times. this is largely why i've self-medicated with substances as a desperate desire to know what it feels like to feel good.
…
so how do we move through the internal blocks of depression? i'm very much still learning the answer to this. the most coherent one i have is the need to disrupt the experience, to agitate it. to seek out experiences that remind me what it's like to feel alive, such as going on a walk in a busy city on a nice fall day.
Sarah Cargill refers to tears as the salt that's needed to bring out the full flavor of our souls. so i'd say the release of crying is also a part of it.
i remind myself that hope is a practice (or a "discipline," as Mariame Kaba puts it). and when i'm depressed, practicing hope can feel like trying to lift a car off the ground. so many times it is an exerting of effort that seemingly has little impact. which is where trust comes in — a belief that it's all valuable, that progress is happening even when we cannot yet see it.
i'm reminded that external manifestation is often the final stage of healing and change, which helps me to nurture patience.
there is nothing easy about healing, or the irony that things often get worse before they get better. all i can do is trust, believe, practice. and when all else fails, i dig deep inside myself to find compassion for the hardship of this lived experience.
❤ ❤ ❤